Our Garden provides an aura of relaxation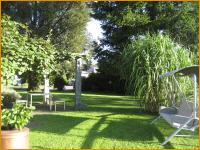 Recuperate in one of the many sites in the vicinity of our farmhouse.

Sit underneath the large linden and fir trees, or swing in the framed hammock and daydream.

Many memorable dinners have taken place in our bountiful garden.
Let yourself be pleasantly surprised and order your barbecue dinner in the summer or cheese fondue in winter time (advance booking required).

Aside for garden seating, we also offer our guests a heated summerhouse in cooler weather.
Pull down the blinds, use the fireplace and round out the day with a good glass of wine and some interesting conversations.
Fireplace